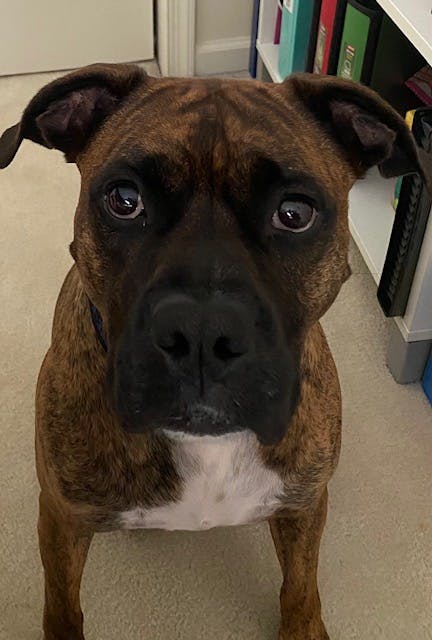 As wonderful as dogs are, our love for them sometimes makes this world a complicated place.  
In December 2019, my family had to make the difficult decision to say goodbye to our first dog, an English bulldog named Sadie, who brought so much joy to our lives. It was very painful to endure, and we reached out to friends and family for their advice on how to navigate through such a difficult time. Many advised against getting another dog just to "fill the void."
In January 2020, when I was back at Villanova University for my spring semester, it came as a huge surprise when my mom called with the exciting news that our family was bringing home a new dog. The next weekend, I would go home to meet our rescue boxer shepherd puppy, Sam.
Walking in the door, I did not know what to expect. I was confident I would love him, but also a little nervous. As soon as I entered, I was greeted by Sam jumping up and giving me kisses and, in that moment, I knew we had found the perfect dog! We played with him in our backyard the whole weekend. Going back to Villanova was a painful goodbye.
Two months later, we were slapped with COVID-19, and I was forced to come home for what would be the remainder of the spring semester. As quarantine began, I didn't know what any of us would have done without Sam. His playful and loving nature was our motivation to wake up in the morning. My younger sister and I would fight over who got to take him for a walk around the neighborhood. Sam's excitement was our excitement. Every day, he gave us hope that this seemingly endless pandemic would one day be over.
My special relationship with Sam has only grown. He is always right by my side, especially when I am eating! He loves to cuddle up on the couch when I am watching sports. When he barks, I know exactly what toy (or bone) he wants. My favorite part of our relationship is playing fetch with Sam in our backyard, which we have recently expanded for him. He dashes around faster than any dog I have ever seen! He loves his new home, and we all love him so much. Without Sam, our lives would be so empty.
I am so grateful for the opportunity to help promote the National Dog Show, hosted by the Kennel Club of Philadelphia, as part of my internship with Vizion Group Public Relations in Berwyn, PA. The National Dog Show, airing every year on Thanksgiving Day on NBC, is a great reminder of how happy my dog makes me. This November, Sam will be watching his first National Dog Show with me, and we hope you will join the audience of some 25 million people and millions more dogs for the 20th anniversary show from noon to 2 p.m. in all time zones.