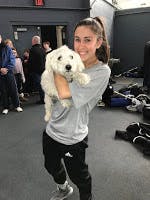 Being an intern at Vizion Group Public Relations in suburban Philadelphia, I have been lucky enough to play a part in promoting the National Dog Show hosted by the Kennel Club of Philadelphia. Working with the National Dog Show makes me grateful that I have my own dog and am able to share wonderful memories together.
The best way to explain my love and passion for dogs is this story about how my dog came into my life.
As a child, I grew up terrified of dogs. Our family friends had all kinds of canines ranging from Golden Retrievers to Bernese Mountain Dogs, and all sizes in between. I would dread having to show up at dinner parties to be greeted by an energetic puppy that could knock me over with a simple lick.
Then one year, my perspective changed and I became infatuated with the idea of owning my own dog. At the beginning of 5th grade, my best friend got a puppy and that made me realize I wanted the same joy and love in my life.
I begged my parents to get a dog but they had a ton of hesitation about the idea.
To begin with, my dad is allergic to dogs, so the breed would have to be hypoallergenic. Another problem would be that my brother and I played on competitive travel teams for multiple sports throughout the year and my mom was concerned that we would have to leave our dog alone too much. Finally, my parents were still nervous to invest in a puppy because they weren't sure how I would manage it, due to my longstanding fear of dogs.
Instead of saying no, they set forth a plan and put the responsibility on me to see how serious I actually was. First, I had to take care of a stuffed animal dog and tend to its needs like it was real.
I spent every day, feeding the stuffed animal morning and night and taking the dog outside to go the bathroom and for a walk. It was the dead of winter and the stuffed dog was getting dragged through snow and slush in my neighborhood. I did this for 30 days, never gave up, and my parents were suitably impressed. The decision was made to go ahead with the process of getting a dog.
The next step was determining what breed. I spent hours trying to find a great hypoallergenic breed that would work for my family. The final choice ended up being a Schnoodle.
A Schnoodle is a mixed breed combining a Schnauzer and a Poodle and we envisioned an adorable, fluffy puppy would soon join the family. We found the perfect litter and chose a small, sweet, cream colored puppy and named her Maggie.
I can still remember the overflowing amount of joy that I felt when we finally brought Maggie home. I feel the same way today about my 11-year-old buddy now, as I did that day, when she was finally mine.
The joy of having a dog is universal and the wonderfulness of the species is a theme of the National Dog Show broadcasted on NBC Thanksgiving Day. Come Thanksgiving 2021, Maggie and I will be on our favorite spot of the couch watching, and we encourage you to do the same!