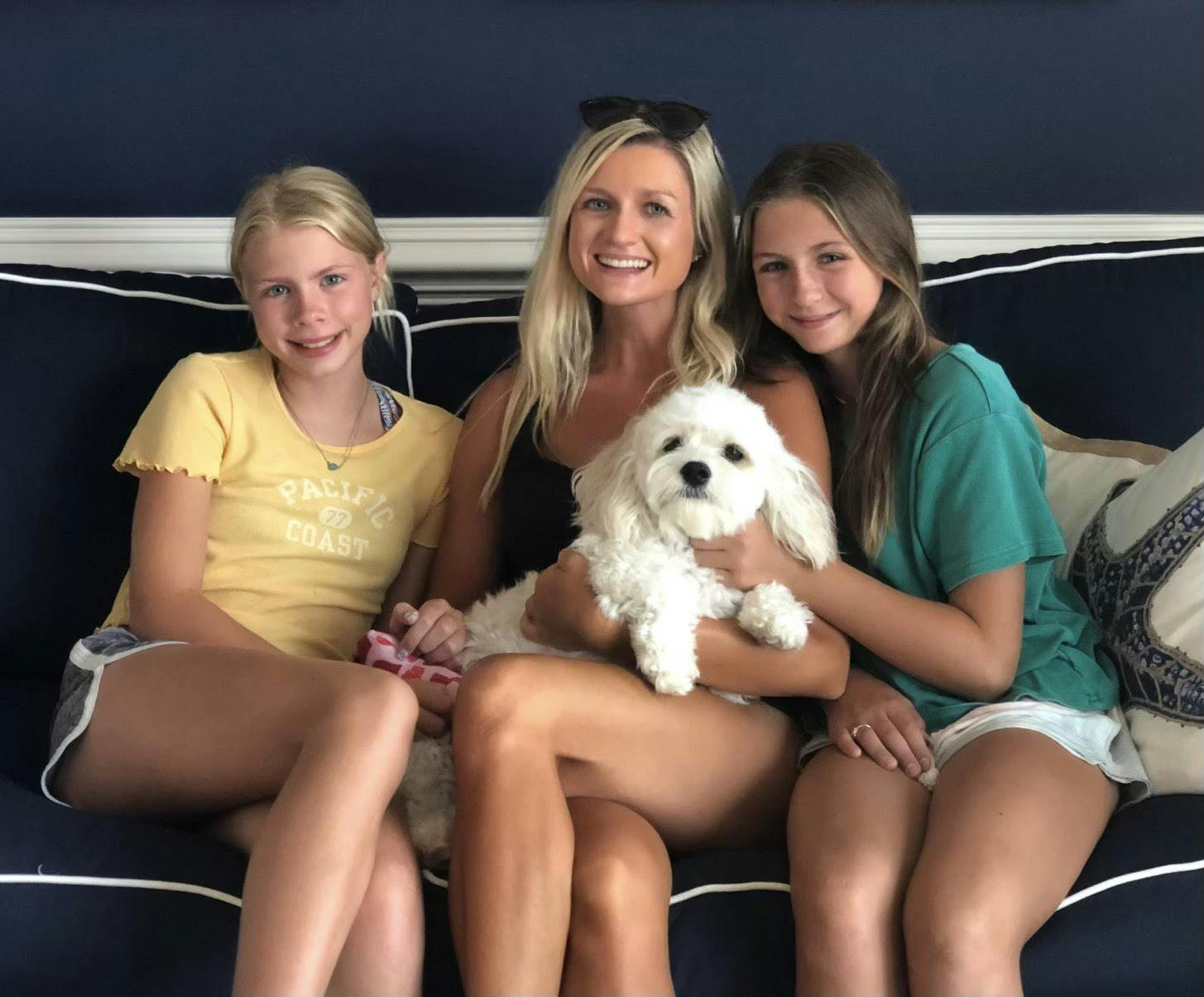 I have wanted a dog my entire life. As a child, I constantly begged for a puppy, but my mom was allergic so we could not get one. My cousins who live nearby had also always wanted a dog and begged even more than usual for one when the pandemic started. My aunt and uncle finally agreed, but it was difficult to get dogs at the time because everyone wanted one while they were spending so much time at home at the start of COVID-19.
My cousins live about ten minutes from me, and I spend a lot of time with them. In the featured picture, Emily is on the left, and Kelly is on the right. Emily is eleven years old. She loves taking care of animals and really wanted a puppy of her own. Emily was determined to get one as soon as she could, so she reached out to a dog breeder who lives in Ohio. She wrote her a letter explaining how much she wanted a dog and why. The dog breeder loved the letter and not only said that she could have one of the puppies but that she could be the first one of her customers on the list to choose a puppy. Emily looked through the pictures that the breeder sent her and chose Charlie, an adorable Cavachon. A few days later, Charlie was put on a plane and delivered to her new home.
I have spent a lot of time with Charlie since then, especially in the summer, because we vacation at a beach house on the Jersey shore. Charlie truly is a loving dog. When everyone leaves the house, she sits patiently by the door and waits for us to come home. When I walk in the door after not seeing her a few hours, she runs over to me, jumps up so that I will pet her, and then rolls over. She shows everyone how excited she is to see them by rolling over, and she puts her paw out and touches my arm to show me that she is glad I am back. It amazes me how well Charlie can sense emotions. She comforts people and always wants to make them happy. For example, she senses when someone is having a bad day and will sit next to them. One day, my cousin didn't feel well, and Charlie sat on the couch with her all day and watched movies. She is enthusiastic and determined to show everyone how much she cares about them.
I am a senior at the University of Delaware this year and an intern at Vizion Group. I am excited that I have the opportunity to tell my story and help promote the dog show through my internship. I love spending time with Charlie and can't wait to watch the National Dog Show Presented by Purina on NBC with her on Thanksgiving Day!