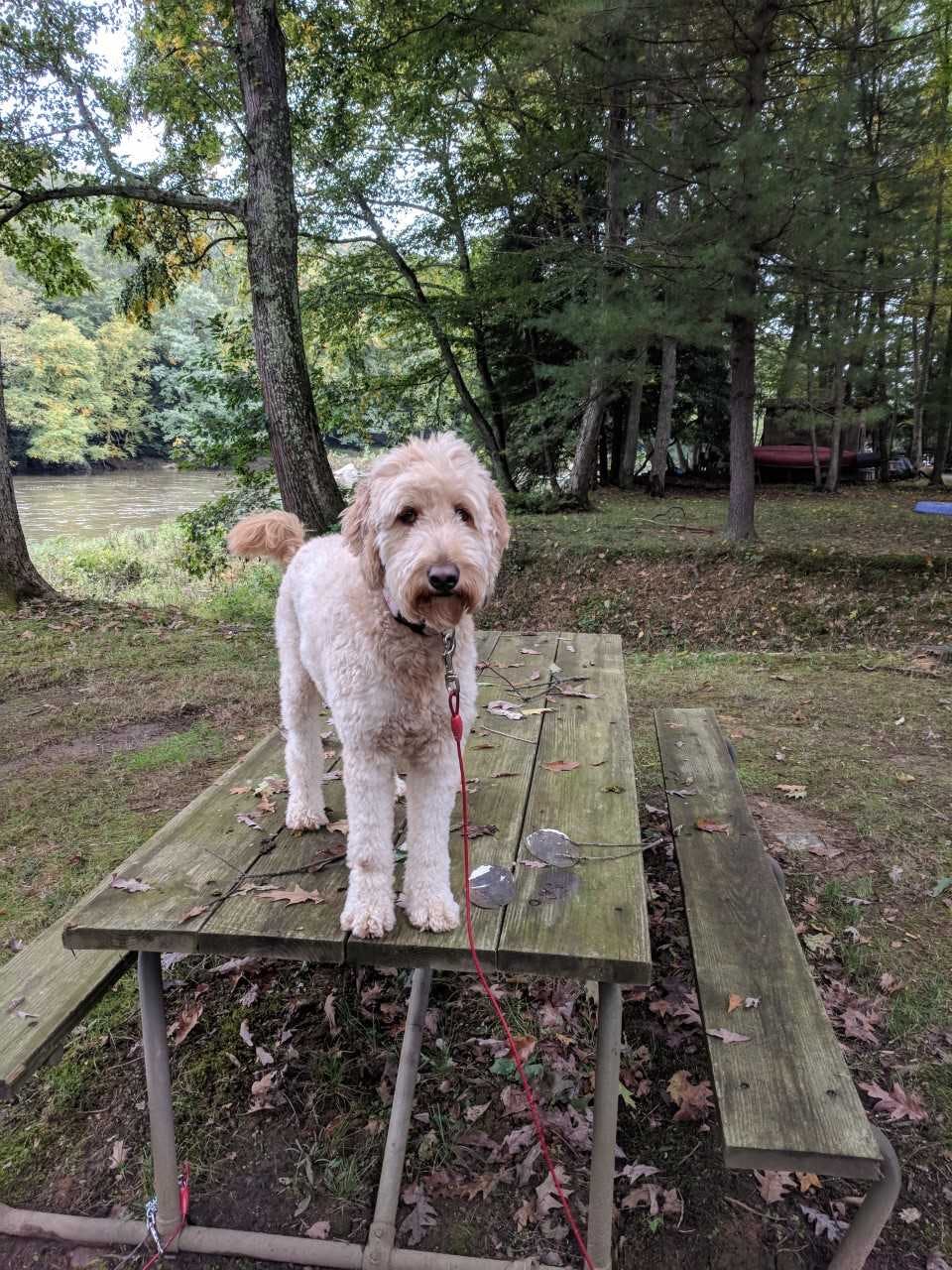 Being an intern at Vizion Group PR has given me a lot of fun and unique experiences, including being able to work during the National Dog Show in Oaks, PA.
"WAIT! YOU GOT TO WORK AT A DOG SHOW?", my friends said. I know. Pretty cool.
During the show, I was able to see all sorts of beautiful and talented dogs showing off their skills for hundreds of people to enjoy. It was an exciting moment because for months I myself had been working with Vizion Group to help promote this event. Also, seeing all those dogs trotting around like superstars and getting lots of love and attention sent a lot of memories soaring through my mind. One memory was a trip my family and I took to Disney World with my dog, Penny. Penny is a three-year-old Golden Doodle who is crazy but loves people. She would much rather give a band of thieves kisses than try to stop them. Sadly, therefore she could never be in the National Dog Show. She would try to give kisses to every person she saw rather than listen to anything I had to say. My family and I got Penny from a family farm in upstate Pennsylvania and fell in love the second we saw her. The moment we brought her into the car, she rolled up onto my lap and snuggled in. She is one of the most energetic dogs I've ever met, but also one of the sweetest. We take her on many adventures including hikes, swimming, playing with other dogs, all the usual. We hate leaving her at home, so we take her with us pretty much wherever we go as long as the temperature is high enough to leave her in the car, or to places where she can walk around with us and can meet some new people. The greatest adventure we took her on though was one we will never forget. My Family and I love Disney World. We were planning on going on another trip, but we just didn't want to leave her behind because we knew she would be extremely sad. Luckily, Disney World was offering a trial run of having dog friendly hotels. So, we were able to take Penny with us and she was so glad that we did. Overall it was a 16-hour drive, but we stopped in a few different states along the way and explored each one. We've actually done this before, but with Penny with us it was a lot more fun. We went on a walk-through the city of Savannah, a ghost tour in North Carolina, and a walk on the sand at Daytona Beach. All those stops made the drive to Disney World a lot easier. Our hotel at Disney World was a cabin at Fort Wilderness. They were outside cabins set up somewhat close to each other, but still gave everyone that outdoor, rustic feel. It was great for Penny because we could give her plenty of walks in a unique environment. There were also a lot of interesting new animals for Penny to meet. She almost tore my arm off when she went running off to chase them. For instance, she saw her first armadillo and went crazy. We also saw a lot of other dogs there. Not as many as the National Dog Show in Philadelphia, which annually hosts almost 2000 canines. Penny loved the hotel/park and during the day when we were in the Disney parks, she got to stay in a great dog daycare center run by Disney. She had a lot of fun on that trip and so did I. The National Dog Show is a lot of fun that gives great experiences to a lot of people and I'm sure brings out great memories for more people than just me. I'm so happy that I was able to be there that day and able to be part of that amazing event. So, the next time you're planning a trip, I would recommend a November visit to The National Dog Show in Philadelphia. I would also encourage everyone to bring their dogs with them on a Disney World Fort Wilderness vacation!