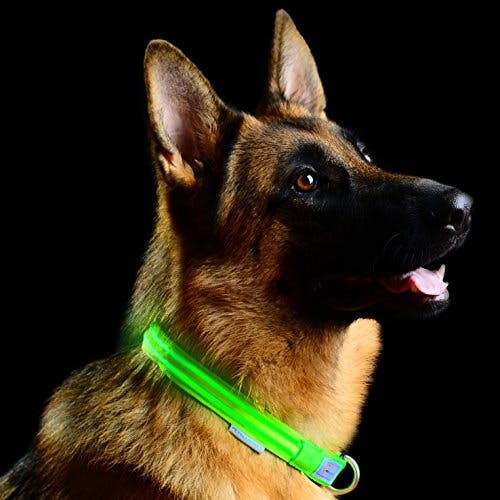 Keep your furry friend cool, relaxed, entertained and in sight this summer with these doggy must haves!!
Just like their owners every dog needs the latest on what is fun and exciting in the dog world. This summer set your dog up with some of the coolest dog friendly gadgets around. This will go as far and night time fun, cooling off, fun in the sun and a little doggy down time hiding spot.
One of the coolest things around is a metal clip LED Glow in the Dog Collar from Pet Industries. This collar comes in sizes from XS-L and is ranging from 10 to 23.4 inches in width. Owners have said they love how bright the lights on the collar shine at night making it the perfect night time walking accessory. Other have also raved about how easy it makes finding your furry friend from a distance no matter how dark. This collar is also super beneficial for checking out the kids at night if they go out to play with their dog for some summer time fun!
This collar goes for about $18 dollars on Amazon and is a USB charge (just like your smart phone) that can last for up to 7 one hour walks a week (7 hours).
Dogs deserve a place to call their own too right? If the kids get to hide away in their bedrooms why can't your furry kid too? This next product is the Suncast 350DH Dog House. This product is a great for indoor or out door use and is perfect for dogs up to 100 pounds! Made with super sturdy, weather resisting plastic it can hold up against all kinds of harsh weather conditions year round. This dog house also makes for a super easy clean up as well! Just hose it down whenever is necessary. It even snaps together for easy assemble and break down.
Owners love the Suncast 350DH Dog House for its easy assembly, durability and affordability. *TIP* to make this house extra special and comfy for your furry buddy since the house is made of plastic and is not insulated and any doggy rug or blanket for the extra cozy effect.
This dog house goes for about $70 dollars on Amazon.
All of our furry buddies love to run around in the summer sun just as much as their owners do, but when it is time for some well need R&R their bodies need to be properly cooled off. Thats where the Dogbed4less Orthopedic Gel Infused memory foam Dog Bed comes in. This gel infused memory foam mattress come with a water proof liner and two washable covers that we all know any dog owner will appreciate.

This foam mattress is hypoallergenic and alleviates pressure points for arthritic and again pups while reducing the over heating that occurs with some dog beds. This orthopedic bed comes in six sizes ranging from 35" x 20" to 55" x 47", all roughly 4" thick. 

Owners are raving about the bed's comfort, stating that it doesn't flatten over time which is hard to find in a dog bed really showing how high quality it is compared to other beds. 
This bed runs on Amazon for about $85 dollars.


Ever notice your pup might need a little extra kooling during the summer? Well luckily the Kool Collar can do just that! This collar uses self filled water, that is then turned into ice by freezing it over night to focus on the neck and shoulder area of your pup. Each refill provides up to two hours of cooling relief on those days where it will just make your furry friend a little more comfortable. Or if you notice over the summer months in general your dog gets over heated easily this is the perfect, safe and easy solution for them!
Owners are saying it is  the perfect choice for medium and long-haired pups, as the cooling effect is strong enough to penetrate even thick fur.
This collar runs on Amazon for about $19 dollars. 

CHUCK IT! Flying Squirrel Frisbee is going to be biggest hit with your dog and your family when it comes to special time outside with your furry friend this summer. Us as pet owners all know that one of the most important keys to a dogs health and happiness is exercise. Well this toy hits the mark on both of those. So many dogs were born to run so why not get them a toy that highlights that and everyone can enjoy it. Even the tiniest of pet owner can get involved and enjoy some quality time with their furry friends.
This toy comes in small (9″), medium (10″) and large (11″) sizes, and reviewers say they're strong enough to last through many aggressive games of fetches before you need to replace. Some owners have even mentioned that the flexible canvas material is gentle on dog teeth — which is great when dogs want to play for hours on end.
This frisbee is available on Amazon for about $11 dollars.
By: Cecilia Cianci